The Brigadier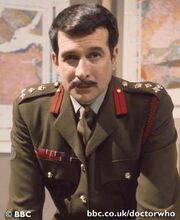 Race: Human,
Class: fighter 10/ U.N.I.T. Knight 10
(U.N.I.T knight = PURPLE DRAGON KNIGHT as described in the complete warrior)
HP178,
Init 34
AC +5
Speed 20 ft.
Fort+19/ Ref +11/ Will +11
Alignment: LG
Str 14, Dex 13, Con 14
Int 12, Wis 14, Cha 18
Feats:
Leadership(10 ranks), Negotiator,
Improved Initiative, Point-Blank Shot, Dodge, Precise Shot, Weapon
Focus (composite longbow), Improved Critical (composite
longbow), Mounted Combat, Blind-Fight,
Mounted Archery, Far Shot, Combat Reflexe
Skills: 
Diplomacy +11, Gather Information +4,
Listen +4, Search +1, Sense Motive +3, Spot +4, Ride +14;
Knowledge (U.N.I.T) +15 Knowledge (the doctor) +10
Special abilities:  (same as PURPLE DRAGON KNIGHT)
Heroic shield, rallying, Inspire courage, Fear, Inspire courage, oath of wrath, Final stand
Equitant: U.N.I.T. head quarters  
Ad blocker interference detected!
Wikia is a free-to-use site that makes money from advertising. We have a modified experience for viewers using ad blockers

Wikia is not accessible if you've made further modifications. Remove the custom ad blocker rule(s) and the page will load as expected.